June 25th, 2018 at 5:44pm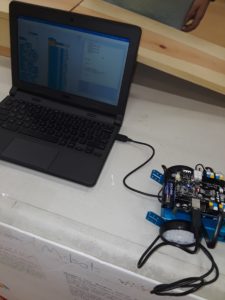 This year, my middle child and only daughter took a STEM class. In this class, she did various things, including take pictures and work on the yearbook.
At the end of the year, the members of the class had to do a project. The project she chose was to program an M-Bot. One of her other classmates programmed an M-Bot to do a specific routine. One of her classmates built something to hold a baritone horn. Another created stress 'toys' for the kids to play with. Another used touch circuits to play a game – and another used them to run lights.
My music loving daughter programmed hers to play Happy Birthday since the final presentation was on my birthday.
I was actually pretty impressed. No, it's not difficult to program something to make the same few notes and play Happy Birthday, but it's still pretty cool for a 13 year old girl to choose.
This is my artist, and the 2nd of my 3 self-proclaimed geeks. Even if my oldest doesn't admit it – he may, I haven't asked – he is a geek and a gamer just like his mom. My youngest two like to challenge themselves – I think it's the competition between them. They push each other more than I thought they would.